Have Questions on Getting Approved?
We've Got the Answers!
Our Goal is to Make the Approval Process Easy!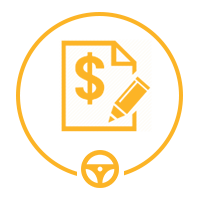 Loan Amount
The loan amount is the cost of the vehicle plus any fees the lender or dealer may add to the loan in addition to any additional option or add-ons you've selected.
Loan Term
The loan term is the length of time you will make payments on the vehicle. The terms will typically run between 36 months and 72 months or other timeframes as determined.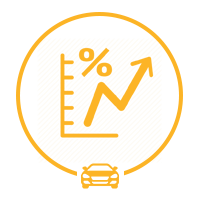 Interest Rates
Interest rate is what the lender charges you to borrow money. The rate will vary depending on the vehicle and any risk the lender faces in funding the loan.
Typically, when you get a car loan, you make payments to the lender instead of the car dealership. Although, some dealers do offer car financing in-house, which is beneficial to those customers who have bad credit and may not be able to obtain a loan elsewhere. In that situation, you would have the loan with the dealer and make payments directly to them.
Drive Fox has partnered with over 350 dealers throughout Canada who offer specialized financing options. Through this extensive network, we can pair you with a car dealer in your area who can assist with your financing needs, regardless of your credit score. Start the process now by completing our application [insert link] and get approved as quickly as a few hours.
Information Needed for Your Application
1. Employment & Income
Some lenders will require you to be at your current job for three or more months and have at least $1,500/month in income. You can also claim other forms of income, including government assistance.
2. Driver's License
You are required to have a valid driver's license and be of majority age in the province you live in to obtain financing. Lenders are aware that customers have a higher probability of paying their loan if they can legally drive.
3. Bank Account
The lender needs to know they have a source to collect their payment from every month. The best and easiest way to do this is via check or stamped pre-authorized payment form.
4. Current Address
To complete and process your loan documents, you must be able to provide a current physical address to the lender.
5. Down Payment
Some lenders will not require a down payment, but it will show good faith and help reduce your monthly payments. Also, the less you need to finance, the more likely the lender will be able to approve the loan.
---
Although a down payment isn't always necessary, it will often help. The less you have to finance, the more likely the lender will be to approve your car loan.
Get Connected with a Dealer
It only takes a few minutes to fill out our online application. Once it's complete, we will pair you with a local dealership who offers financing options for all credit types.
Apply Now.
Contact Drive Fox to Get Started
Have additional questions about car loans? Fill out our contact form below to connect with one of our loan specialists. We're here to help!
Contact Us
Leave us a message and one of our customer service reps will get back to you asap.